Owners Page
The Board of Directors welcomes you to the Toxaway Views Homeowners Association. We hope that you will love your home in the mountains as we do. You will find our homeowners friendly, eager to meet you, and willing to answer questions you have about the area.

Many of the homeowners attend our annual meeting that is held on the nearest Saturday following the fourth of July. You will receive notification of the time and place in the mail prior to the meeting.

All homeowners are welcome to attend quarterly board meetings. The meetings are usually on the third Saturday of January, April, July on the first Saturday following the 4th (day of annual homeowners meeting), and October. If you plan to attend a meeting, check with a board member for the exact time, date, and location. The Board is always interested in hearing your questions, concerns, and ideas. If you want to get involved with the Homeowners Association as a committee or board member, please let a board member know of your interest.
*** April 2020 BODs Meeting ***
Apr 20th at 1 PM - Unit 704

At the Annual Owners Meeting of Toxaway Views Homeowners Association held on July 6, 2019 Judy Lee was re-elected to serve an additional two-year term on the Board of your Association and the following candidates were elected for a two-year term: Jan Harden (202) and Maureen Murphy (502).

At the 3rd Qtr BODs meeting held on July 7, 2019, following the annual meeting, the following TVHOA officers were appoined:

President: Don Woods - 101 Highland Drive, Fern Park, FL 32730
Vice President: Dan Harless - 41 Sea Winds Lane E, Ponte Vedra Beach, FL 32082
Vice President: Tod Dunn - 806 NW 22nd Street, Gainesville, FL 32603
Secretary: Judy Lee - 3249 Whitman Way, Tallahassee, FL 32311
Treasurer: Open Position
Director: Jan Harden - 171 Toxaway Views Dr Unit 202, Lk Toxaway, NC 28747
Director: Maureen Murphy - 121 Toxaway Views Dr Unit 502, Lk Toxaway, NC 28747

*** Notice to Toxaway Views Homeowners ***
14. No pets shall be allowed to run at large in the common areas of the Condominium; however, a cat may run loose if belled. A unit owner may not have more than two (2) pets. Dogs shall not exhibit aggressiveness toward any other pets or persons; otherwise they must immediately be removed from TV premises. Dogs shall not be permitted outside of its owner's unit unless attended, on a leash, and under the control of its owner. In no event shall said dog ever be permitted in any of the recreation facilities i.e. pool area, etc. All pet owners must pick up after their pets. Pet Waste bags shall be utilized and SHALL NOT be deposited loosely in garbage containers, but shall be bagged in full size garbage bags prior to disposal. Pets shall not be left unattended on porches or balconies, nor left inside to incessantly bark and disturb or annoy neighbors.

Guests of homeowners are permitted to bring a small pet provided that the homeowner is in residence. Tenants may not have pets within the Association. However, an owner having a seasonal or full time tenant, who has remained in good standing for at least 6 months, may petition the Board for his tenant to have a pet that meets the above standards of the Toxaway Views community. In petitioning for tenant having a dog, the owner is required to provide Management a copy of the lease and certify that his tenant has a copy of the HOA Declarations and Rules & Regulations; and, acknowledge responsibility for tenant's conformance. The TVHOA Board reserves the right to reverse this exception should the TVHOA policies not be followed.


TVHOA Shutterfly Share Site
The TVHOA community Shutterfly interactive share website is sanctioned by the Toxaway Views Homeowners Association and created/maintained courtesy of the association's webmaster for the benefit of the TVHOA and all TV owners. Owners are encouraged to contribute photos and participate in the Message Board (Forum). This site features a Photo Gallery, Calendar, Forum, and News sections; in addition there is a store where you can order Prints. The Shutterfly site automatically sends out an email notice weekly to all registered members only when new material has posted. All current owners, not already registered, are invited to participate by joining.

*** Notice to TV Homeowners and Renters ***
TVHOA Rental Restrictions
Revised TVHOA Rules & Regulations (Affirmed 14 Feb 2020)
TVHOA requirements for installation of satellite TV dishes/antennas
TVHOA Tree Trimming for view - Policy
TVHOA Policy for Installation/Use of Security Cameras


Community Pool - Open July and heated for the summer season. Closing immediately following Labor Day weekend. Please note that the pool road-side iron gate is to remain closed and secure at all times. Pool/deck use is restricted to owners in-good-standing, their immediate guests, and their registered tenants. Tenants and guest of owners not-in-good-standing and previous tenants are not permitted use of the pool, pool deck, or tennis court. Owners'/tenants' guests are not permitted use of the pool/deck when the owner in not in residency.

Community Grill
♦ Grill is for use of owners and their guests (renters).
♦ Grill is connected/teathered to the pool heater Propane gas tank.
♦ Turn off gas valve after every use.
♦ Clean cast iron grates and emitter plates using the heavy-duty grill brush in deck box.
♦ Turn grill to high and after 10 minutes debris should turn to ash.
♦ Before and after cooking wipe grates and plates with cooking oil and paper towel. This will prevent rust and keep grates "Seasoned".
♦ Grill has an igniter to start cooking - if the igniter fails replace 1 AA battery located below firebox and in the tank storage area.
♦ After cooking, clean out grease tray: located at rear of grill.
♦ Be sure to replace the grill cover after every use and clean up. This will ensure that the grill is maintained properly and ready for the next great grilling experience.
♦ Grill instructions - click here

Toxaway Views address changes - click here for listing of 911/mailing addresses for the units in Toxaway Views. Please note that this is now the "official" site mailing address for TV unit owners. The usps.gov website recognizes the new addresses as of Spring 2012. You should now use the new addresses for package deliveries and mail forwarding, etc.

*** Notice to TV Homeowners ***
TOXAWAY VIEWS HOMEOWNERS ASSOCIATION, INC.
Maintenance Request
TVs has a viable work order request system in-place intended to provide tracking of all work order statuses and to keep the BODs informed as to progress and cost/invoice status. TVHOA has a procedure for owners to submit a work order request via the CMG website, you are required to log into the Cedar Management Group (CMG) owner portal. The CMG informatiom system is not yet functioning to our satisfaction. As an interim measure, we are directing your maintenance requests to our previous website submittal form. If a work request is not properly submitted by homeowners, there is no assurance of any maintenance action in your behalf. Note that TV directors are strictly voluntary homeowners and deserve the same opportunity to enjoy their on-site time same as you; therefore, please extend them the courtesy of not interrupting their personal time with complaints and verbal or scrap paper request for your maintenance needs.

Communications with our Owners
We strive for this website to be a primary method of communication with our owners. To facilitate this, we need all TV owners to insure that we have correct contact information on record - especially a valid postal and email address - if available. Please review the 2019 - 2020 Owners Directory (password required) and if your information is not completely correct - click here and submit updates.
Toxaway Views Homeowners Association
Resource for Condominium & Homeowner Associations

♦ Why Homeowner Associations don't plan for Reserves
♦ What is a Reserve Study?
♦ NC Unit Ownership Act
♦ Transylvania County Subdivisions Ordance-R1

TV Homeowner's Association BODs 2019-2020
Association mailing address
Toxaway Views Homeowner's Association
Care of Cedar Management Group (CMG)
PO Box 26844
Charlotte NC 28221
704-644-8808

Don Woods - President/Webmaster
Unit 704
Ph: Cel 386-478-9202/828-209-8936
email: Don Woods

Dan Harless - Vice President
Unit 305
Ph: 904-273-3123/828-883-8489
email: Dan Harless

Tod Dunn - Vice President/ARC Chair
Unit 504
Ph: Cel 352-339-6958/828-883-2701
email: Tod Dunn

Judy Lee - Secretary
Unit 703
Ph: 850-422-1932
email: Judy Lee

Maureen Murphy - Director
Unit 502
Ph: 815-345-0835/828-966-7297
email: Maureen Murphy

Bill Grant - Treasurer
Unit 306
Ph: 904-753-2920
email: Bill Grant

TVHOA Community Management
Cedar Management Group
Toxaway Views
C/O Cedar Management Group
PO Box 26844
Charlotte NC 28221

Community Manager
Miranda Shelton
704-644-8808
email: Minand Shelton
Notice to Owners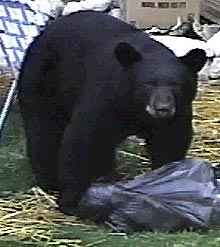 Please do not allow bears access to garbage or other food. Do not feed bears under any circumstances. Use your garbage disposal and/or bag & tie garbage in proper trash bags and place in the designated containers for collection, in accordance with the information provided below. Keep all garbage sites clean and collection container lids firmly closed. Note - the "new" collection containers may discourage the raccoons, but hardly slow down a bear. Do not leave pet foods out overnight. If bird feeders have been visited by a bear, stop feeding birds for 1 to 2 weeks.
Trash Pick Up
...... Trash pick-up is weekly (Tuesdays) from December through April and twice weekly (Tuesday and Friday) the rest of the year.

♦ All trash must be bagged and tied. Please do not use grocery bags.

♦ No loose items such as pizza boxes, coke/beer cartons, plastic bottles, cans, dog poop bags, or any other loose garbage will be picked up.

♦ No large items such as furniture, appliances, etc will be picked up.

♦ Small boxes will be picked up only if broken down.

♦ Appliances or other large items may be picked up by arrangement with The Trash Company (BCDA, LLC) at 828-743-4243 at the owner's expense.

Please keep containers latched. Do not place pizza boxes, coke cartons, plastic bottles, dog poop bags, or any other loose garbage in the trash containers. All trash containers should be kept tightly closed to keep animals out and also make sure the trash enclosure doors are kept secure as well. The trash pick-up company WILL NOT collect loose items so they will remain in your trash container or trash enclosure grounds until YOU bag it.

PLEASE - let this not be you! You know who you are and some of us may know also.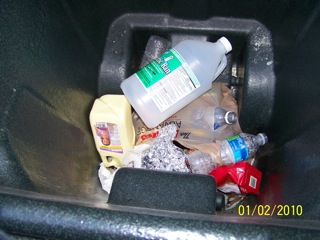 Do it this way>>
And, PLEASE! Do NOT dispose of your
loose dead Opossums in the trash containers.

Homeowners' Association Documents
- now has its own
webpage

Utility Providers
♦ Electric provider - Haywood Electric, 298 Blue Ridge Rd., Lake Toxaway, NC 28747, 1-800-951-6088

♦ Telephone provider - Comporium, 225 East Main Street, P.O. Box 1137, Brevard, NC 28712, Tel 828-884-9011; Fax 828-884-9595

♦ Cable TV provider - Comporium, 225 East Main Street, P.O. Box 1137, Brevard, NC 28712, Tel 828-884-9011; Fax 828-884-9595

Internet service providers
♦ Comporium Internet Services (dial-up, DSL, and cable) 828-884-5577.

♦ Mountain Internet Services (wireless) 828-884-9636.
This community website is sponsored by the Toxaway Views Homeowners Association and hosted/maintained courtesy of Martha and Don Woods - Unit 704 owners, for the benefit of the TVHA and all TV owners. The sponsors solicit website content, photos, suggesting, comments (good or bad - well maybe mostly good), regarding expansion, and other improvements for enhancing this website to be a beneficial resource for all.